The name "Seventh-day Adventist" highlights two of the distinguishing characteristics of the denomination. "Seventh-day" refers to the day of the week, Saturday, on which Adventists worship God as instructed throughout the Bible. "Adventist" refers to the hope Seventh-day Adventists have in Jesus' soon return to this earth.

Though Adventists did not officially organize as a church until 1863, Adventist roots go back at least to the early 1800s. Between 1831 and 1844, William Miller, a Baptist preacher, launched the "great second advent awakening," which eventually spread throughout most of the Christian world. Based on his study of the prophecy of Daniel 8:14, Miller calculated that Jesus would return to earth in 1844. When Jesus did not appear, most of the thousands who had expected His return left the faith, disillusioned. A few, however, went back to their Bibles to find why they had been disappointed. They learned that the Bible prophecy did not specify Christ's second coming on that date, but rather, they discovered that 1844 was the time when Jesus would begin a special ministry in heaven for His followers.

From this small group, who refused to give up after the "great disappointment," arose several leaders who built the foundation of what would become the Seventh-day Adventist Church. Standing out among these leaders were a young couple, James and Ellen White, and a retired sea captain named Joseph Bates. Ellen White, a mere teenager at the time of Miller's preaching on the "great second advent awakening," grew into a gifted author, speaker, and administrator, who would come to enjoy God's special guidance as she wrote her counsels to the growing body of believers. In 1860, at Battle Creek, Michigan, the loosely knit congregations of Adventists, who had continued to seek and gain understanding of the Scriptures after the "great disappointment," chose the name Seventh-day Adventist and in 1863 formally organized as a church. In early 1997, the Seventh-day Adventist Church had a membership of over 9 million and continues to preach and look forward to the soon return of Jesus.

California Missionaries - 1859

In 1848 the Golden State became a possession of the United States after the Mexican American War, by the treaty of Guadalupe, although there were earlier Spanish residents, whose missions were south of San Francisco. The Russians had put their mark in California in the northern part of the state, naming the Russian River and Sebastopol, but they left by 1824. The population of the entire state in the early 1840's was 6,000, but in 1849 the population of San Francisco alone was 85,000. Gold had been discovered in the Golden State at Sutter's Mill, and California was welcomed into Union in 1850.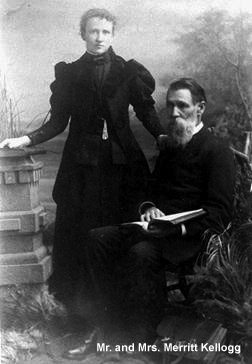 It appears that Merritt G. Kellogg, the oldest son of J.P. Kellogg, was the first Seventh-day Adventist in the State of California, arriving in the spring of 1859. His family spread the Good News by sharing literature and books. Their first convert was B. G. St. John and his family, that forty-niner who made and lost a large fortune in gold mining. Meeting with some success, Kellogg in 1861 held meetings in the courthouse in San Francisco on a weekly basis, and there were eventually 14 who confessed their faith in Jesus and His Church, including Mrs. Short (the wife of the chief of police) and Mr. Moon (a gold-seeker).

Adventist Church Formed - 1863

The Adventist Church was formally formed at the first General Conference Session on May 21, 1863.

Kellogg organized a Sabbath School in his home. Early in 1865, an Adventist cobbler, L. W. Cronkrite, hung a placard of the Ten Commandments and a prophetic chart on his shop wall. When customers made inquiries about the strange beasts, Cronkrite gave them a study on the prophecies. So much interest was aroused that in the fall of 1865, the little Adventist company decided to send $133 in gold to Battle Creek to pay the travel expenses of a minister to labor in California. Alas, the General Conference had no one to send. (Tesimonies to the Church, IV, 489, 490.)

In the spring of 1867, the little group of believers in San Francisco decided to lodge their appeal once again to the General Conference by sending Merritt G. Kellogg to the General Conference Session, but unfortunately, he was not able to arrive on time for the session.

Kellogg decided to take matters into his own hands. He sold his home on the west coast, traveled eastward, and occupied himself until the next General Conference Session which was held May 28, 1868, where he would appear in person.

At first it seemed his plea would again go unheeded. Then, when only two workers remained to be assigned, one of them, J. N. Loughborough, arose. He spoke of recent dreams which had left him with a strong impression that he should hold tent meetings in California. "Should Elder Loughborough go alone?" asked James White. After all, Christ had sent his disciples out two by two. That seemed a good plan to follow for so distant a field. D. T. Bourdeau thought so too; he would gladly accompany Loughborough.

Immediately James White set about raising $1,000 to purchase a new tent for California and to finance passage for the Loughboroughs and Bourdeau by way of Panama. No time was wasted. Less than a month after making their decision, these "missionaries" boarded a ship in New York City. Twenty-four days later they were in San Francisco. Here they were warmly welcomed by the St. Johns and other members of the Adventist company. (O. Macomber, Pioneering the Message in the Golden West, (1946) 54, 58, 59, 63-67.)

Elder Loughborough was to answer his own appeal in the spring of 1868 when he and Elder DT Bourdeau left for California, arriving in San Francisco July 18, 1868 and immediately found lodging with B.G. St. John, "the converted forty-niner". As they scouted the San Francisco area, they found that food was very inexpensive but the rental of homes and buildings to hold meetings was very expensive. There was a church in a small town called Petaluma about 50 miles north of San Francisco, which was known as an Independent church. Members had seen a notice in an Eastern newspaper that two men were traveling west with a tent to hold evangelistic meetings. They were able to make contact with Bourdeau and Loughborough in San Francisco and the Independent church invited them to Petaluma to hold meetings.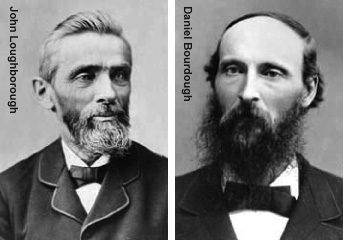 On August 13, about a month after having arrived in California, Bourdeau and Loughborough launched their series of tent meetings in Petaluma at the Independent church. As the story goes, one of the members of this Independent church had a dream one night where he saw two men kindling five fires. In his dream, he saw the ministers of the other churches in Petaluma trying to put these fires out, but the more they tried to put the fires out, the more they burned. Finally he heard the ministers say in the dream, "It is of no use. Leave them alone. The more we try to put out the fires, the better they burn." – J.N. Loughborough, Rise and Progress of the Seventh-day Adventists, p. 276-279.
 
Everything seemed to be going fine until they presented the Sabbath doctrine and a division arose among the Independent church members with only six accepting the Sabbath doctrine and uniting with the Seventh-day Adventist group.

Upon completing these meetings in Petaluma, Bourdeau and Loughborough moved on to Windsor, to the north, then to Piner, then on to Santa Rosa and Healdsburg. It is interesting to note, that the "five fires", that had been kindled, were now burning.

Middletown 1875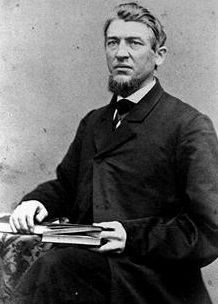 M. E. Cornell conducted series of lectures in Guenoc School House near Middletown in August, 1874.

On April 11, 1869, at the Piner School House near Windsor the temporary state organization was formed with about 60 believers present. In the latter part of August, 1874, M. E. Cornell had left Santa Clara for Guenoc, Lake County, where he conducted a  short series of lectures in the schoolhouse at that place. Lake County Historian Henry Mauldin wrote that "there used to be an Indian School at Guenoc thought to have been on the West side of the highway. W. E. Reed was a teacher."  Henry Mauldin, "A History of Lake County Schools," p. 1987.   In this little village with but nine houses an interest had been created in Bible study by some Adventists who were living there. Taking a circle of four miles in each direction, there were but forty families; yet, from the first, Cornell's audiences averaged seventy-five, many of whom accepted the teachings. Thus was another small church organized."  Harold Oliver McCumber, Pioneering the Message in the Golden West, p. 142-143.  The village of Guenoc derived its name from the Guenoc Land Grant that was first awarded to George Roch in 1845.  The post office was established in 1867 and was discontinued in 1880 when the village of Guenoc moved to Middletown.  The village of Guenoc lay in the Coyote Valley six miles north of Middletown near where the Hidden Valley Lake Subdivision is today.  [http://www.middletownca.com/PO.htm]

 In 1875, after visit Elder W. M. Healey wrote, "We also found certain parties here that seemed to think it their duty to go about the place and prejudice the people against us, telling them that we were a branch of the Mormon church, that we had the time set for the Lord to come next month, that we claimed to be the only ones who believed in the second coming of Christ, and that all who have not belonged to our church are lost, also some other statements equally false.  But notwithstanding all the opposition Satan has brought to bear, we have had a very good attendance, and two families came out and kept last Sabbath.  We hope for more.  Pray for us."  Signs of the Times, 1, 44, 9 Sept. 1875, p. 349.  In October of 1875 W. M. Healey represented the new company of believers at the California State Meeting which was held in Fairfax in Marin County.  Signs of the Times, 1, 47; 7 Oct. 1875, p. 374

John Loughborough wrote of a visit to "District No. 3" which included St. Helena, Napa, Vallejo and Middletown saying, "At Middletown I found some had moved away, so that less than a dozen now meet for worship. These were much encouraged by the meetings."  Signs of the Times, 4, 4; 24 Jan. 1878, p. 32. In the California State Meeting held in Yountville, CA on August 29, 1878, R. D. Hicks represented the Middletown "company that had not been fully organized."  Minutes of the California State Conference, Aug 29, 1878.  The next year in Healdsburg, E. D. Hicks represented the Middletown Church.  We don't know if it was the same person, or a misprinting.  Signs of the Times, 5, 38; 9 Oct. 1879, p. 301. Of the 521 members in the California State Conference in 1878, nine were from Middletown, and seven were Sabbath School Scholars.  Records indicate that there was $72.64 pledged for Systematic Benevolence, which was for the support of the ministers.  Two years later there were five members listed with three members listed in the "Missionary Society."  Signs of the Times, 6, 4,1 4 Nov. 1880, p. 489.

Middletown Church Built  and Organized in1947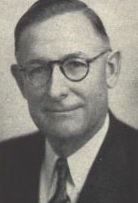 W. A. Nelson, Conference President preached at dedication of Middletown Church on October 11, 1947.

Special organization and formal dedication services were held on Sabbath, October 11, 1947 with the Northern California Conference president, W. A. Nelson, preaching, and Pastor E. F. Peterson who was the district pastor in charge of the church.  "This new church has been developed by ministers and workers from the St. Helena Sanitarium church. Elder and Mrs. A. J. Osborne of the Sanitarium community have had a large share in the work there for many years.  Mr. R. V. Darnell and Mr. E. R. Temple are the local elders at present. The building has a health education room, mothers' room, baptistery, minister's room, and regular classrooms for Sabbath school.  It is heated by a central oil-burning furnace with thermostat control and has fluorescent lighting in the main auditorium."  Pacific Union Recorder, 1 October 1946, p. 4.

Pastor Peterson wrote the following article about the dedication service that was held:  "New Church Dedicated at Middletown.  Work that was begun in Middletown in the late 1920s was brought to fruitage, Sabbath, October 11, in the organization and dedication of a new church.  The first public work we know of there by our denomination, was a series of health lectures held by Dr. Ida Nelson, now deceased. Through the years since then several ministers and laymen and young people from the St. Helena Sanitarium church and other nearby points, including some meetings held by Pacific Union College ministerial students, have helped to develop a small group of believers. These, with the families who have moved into the community having membership in other of our churches constitute the newly organized church in Middletown. Thirteen charter members were received at the time of organization and some from the town stood with us in surrender to God and consecration, thus signifying their intention to become members when they are made ready for this step.  Officers were elected for the church and Sabbath School.  Elder W. A. Nelson, our conference president, presented the organization meeting after preaching to us on 2 Timothy 2:19, 20.

"A new church building has been erected with a seating capacity of one hundred and fifty. Formal dedication services were held in the afternoon.  Elder J. L. Tucker of the Quiet Hour radio program delivered the sermon of dedication.  The dedicatory prayer was offered by Elder Nelson.  Every seat was filled and many were standing at the dedicatory service.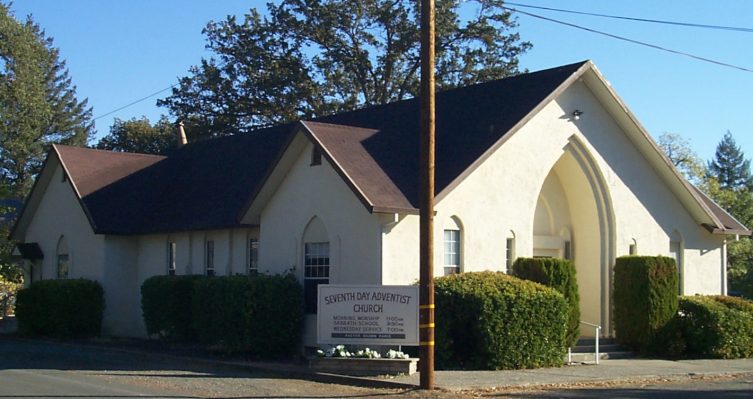 Middletown Church dedicated in 1947 photographed in 2000 by Ted Calkins
"The building and equipment are all paid for.  This project has been made possible by answers to prayer in securing funds and because building materials were difficult to purchase, the Lord provided in many ways.  One gift of $5,000 was received from a non-Seventh-day Adventist, we believe to answer prayer for help.

"It is planned to begin aggressive work for the town and vicinity to add to the church 'such as should be saved.'  We go forward in faith, working and praying for a harvest of souls.  E. F. Peterson."  Pacific Union Recorder, No 41, 11; 22 October 1947, p. 9.

The first clerk's report dated March 1948 does not list the 12 names transferred nor from where they came.  "Church leaders were listed as follows:  E. F. Peterson, pastor (also of Calistoga); R. V. Darnell, elder; E. R. Temple, elder; Mrs. Cressie L. Wyatt, clerk and Dorcas leader; J. P. Armstrong, treasurer; Mrs. Carrie Armstrong, treasurer; Mrs. Ruth Young, Sabbath School superintendent.  Tithe records for Middletown in 1948 show a total of $1,867.01; in 1949 $1,714.66."  Letter dated February 8, 1983 from Marilyn Wolfkill, secretary to R. W. Simons, NCC Conference Secretary to Mr. Peter Nightingale.

In July 8, 1946 a special appropriation of $1,500 was made to the Middletown church from the "Extension Fund and Welfare Fund from the Northern California Conference."  Letter dated February 8, 1983 from Marilyn Wolfkill, secretary to R. W. Simons, NCC Conference Secretary to Mr. Peter Nightingale.

The Northern California Conference Executive Committee voted the following on March 3, 1947:  Purchase of Middletown Lots.  "Quoting from a letter from Elder Peterson dated Feb. 12, 1947:  'Pursuant to our conversation at San Francisco last week re the lots next to our new church in Middletown, will say that the way has opened for us to buy these lots and thus save us the misfortune of having a theater built right next to us or even a trucking line warehouse as has been planned by another group of men there.  We are able to get the lots for $862 and adding $40-50 for title insurance and transfer charges, a total of about $900. . . .   There is only a small group there and having given so much during the construction of the new church building, they are hardly able to finance this deal alone, so turn to you and the Conference Committee for counsel and help.'  "Voted, that we make available out of the Extension Fund the sum of $450, special appropriation to the Middletown congregation for the purchase of the lot adjoining the present church property."

 Middletown Church in 1960's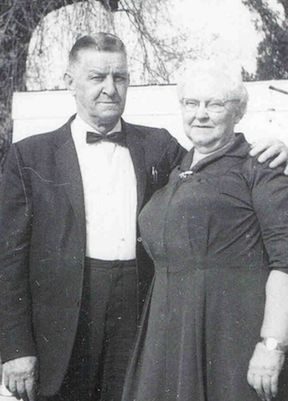 Earl and Maude Calkins, Head Elder and SS Superintendant in 1960.
A 1960 Northern California Conference Directory of Workers lists E. H. James as pastor (also pastored Calistoga) with a membership of 16 members. Earl Calkins [second cousin once removed from Pastor Ted Calkins] was Head Elder and Maude Calkins was the Sabbath School Superintendent. Ernest Temple who was among the charter members served 13 years later as Missionary Leader, Temperance, and Religious Liberty.  The Armstrong family (J.P And Carrie Armstrong) were represented 13 years later by Carrie in the Dorcas and Missionary Secretary departments. The church was located on the corner of Jackson and Armstrong!  --Northern California Conference 1960 Directory, p. 16.

In 1968 at the Pacific Union Conference Centennial, information was requested of the churches. Carolyn Jamison, church clerk, shared a little glimpse of the work in Mididletown,  "The present total Branch Sabbath School attendance each Sabbath is 55 non-Adventist children.  One of these children recently took her stand in baptism.  Twelve more will be baptized on November 9.  Fifteen of the children are daily commuting to P.U.C. Prep and grade school, and are being carried by a 1967 36-passenger Ford bus that the church is purchasing."  Letter dated September 22, 1968 by Carolyn Jamison.

Middletown in the 2000's

In January 2005 the church, after the Armstrong Street building was listed for sale, the church accepted an offer of $360,000.00 from Mr. Jack Lier.  The congregation rented the Jesus Christ Fellowship church from February 2005 through July 5, 2007.  During this interim period, the Cravey property next door to the school/fellowship hall was listed for sale and purchased with funds from the sale of the church and a mortgage note for $550,000.00.  The church viewed this as an opportunity for the expansion of the school and convenience of the teachers and students.   A loan of $200,000.00 from the Conference was obtained to remodel the Fellowship Hall for worship services, and both the Fellowship Hall and the house on the new property underwent a remodeling phase with volunteer labor, which has included the Jim Grossman group of Dogwood Foundation who donated five days to the project, with help from local members, area SDA churches and the PUC Physical Plant Department.  During the early phase of this project, an anonymous donor presented an opportunity for matching funds of $25,000.00 for the school house remodeling.  The match was raised by the church and the project is currently making good progress.

 

Pastors of the Middletown Church:

E. F. Peterson (St. Helena, Calistoga, Middletown District) 1947-1948
   Ray James Student Pastor 1947-48 
Paul Campbell (PUC Church, Calistoga, Middletown District) June, 1948-

E. H. James (Calistoga & Middletown District) 1960
Roger West, 1962-1965
Ralph T. Carter 1965-1969
Harold L. Flory, 1969-1972
E. Eugene Miller, Feb. 6, 1973-1979 (District with Clearlake)
     Frank Hightowner Student Pastor 1977-78
     Jim Thoreson Student Pastor 1978-79
Steve Chavez 1979-1983
Paul Emerson 1984-1986
    James Shires 1984-1986 Student Pastor
David Dunkinson 1987-88
Wendel Wilcox  1989-91
Earnest Lutz, 1991-1992
Robert Janssen, 1992-2000
Shawn Paris, 2000-2003
Ryan Van Hook, July 2003- July 2008 (District with Clearlake)
Ted Calkins, June 2009-2022  (District with Clearlake)
    "Alex" Gresford Thomas 2011-13 Extern & Intern
    Timmy Baze 2013-14 Extern
    Albert Vargas 2015-16 Extern